The Chittenden County Opioid Alliance is based on the premise that no one organization can reduce the burden of the opioid crisis in Chittenden County alone. It will take an Alliance of committed partners. The Alliance is made up of many dedicated people who come from different sectors of the community and have partnered together- local non-profit agencies, state and local government, business leaders and community members in Chittenden County.
View the CCOA Partner List »
View a one-pager on the CCOA »
The organizational structure of the Alliance is based on a Collective Impact model, which enables successful collaboration with a variety of organizations that share a common agenda and outcomes. This model is based on the principle that there are key decision makers at the table to help guide and proliferate the work of the Alliance. These key decision makers comprise the Chittenden County Opioid Alliance Steering Committee.
A Small Steering/Executive Committee is made up of a few of the members of the Larger Steering Committee and help make decisions in the interim of the Large Steering Committee, who meets quarterly.
View Agendas & Minutes for all Committees »
The four Action Teams, comprised of the working team members, meet regularly to develop the strategies in four areas specific to the opioid crisis:
By working collaboratively, CCOA can have the impact that a single organization or program cannot have on its own. The backbone staff's role, Project Director and Data Manager, is to ensure that all current efforts to address the opioid issue work synergistically and to aid in developing new and creative solutions to the problem that we all work on collectively.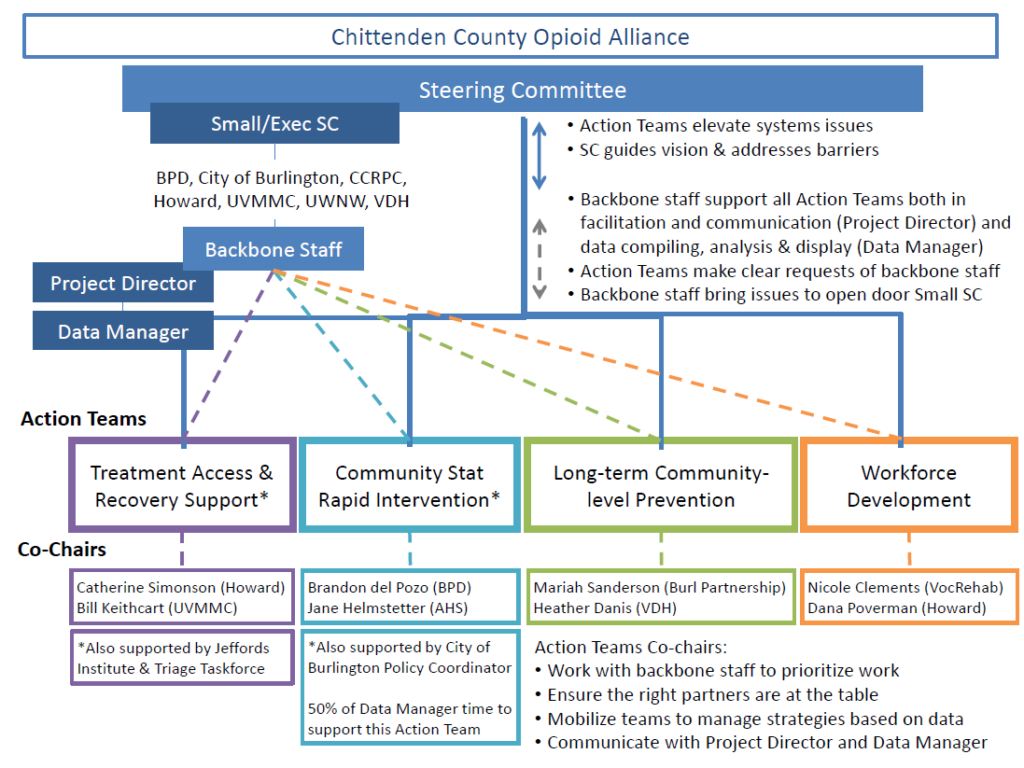 ---
The Chittenden County Opioid Alliance is a collaborative partnership with local non-profit social service agencies, state and local government, UVM Medical Center, business leaders, and community members in Chittenden County to reduce the opioid crisis and the burden it brings to our community. CCOA is funded by the UVM Medical Center, the Stiller Family Foundation through the United Way of Northwest Vermont, and by the Green Mountain Care Board through State Innovation Model funds.
CONTACT US
Chittenden County Regional Planning Commission
110 West Canal Street, Suite 202
Winooski, VT 05404
ccrpcvt.org